HEALTH COACH APPROVED KETO PRODUCTS TO TRY
There are hundreds of keto products available that contain ingredients that hold many people back from the success they could be having on the keto diet. Below, you'll find our most up-to-date selection of health coach-approved keto products. 
Tara and Jeremy have personally vetted these products for quality & ingredients. The links below are affiliate links, which means, if you choose to purchase through our link, we will get a small % from the company for sending you to them. We try and give you a discount on your purchase with these companies.
Using these links does not cost you anything extra, and it's a great way to help support our mission. Our promise to you is never to recommend a product we haven't personally tried and researched. Please choose to use our links each time you order. Thank you so much 🙂
Keto Electrolytes
Avoid The Keto Flu & Support Your Body
Save 10% with coupon code TARAKETO
Keto K1000 Electrolyte powder (powerful hydration for keto beginners)
Keto IV - our favorite flavored electrolyte concentrate. No fillers or artificial ingredients.
Hy-Lyte Capsules - Electrolytes in a capsule for those who don't like the taste of liquid electrolytes
Keto Chow Electrolytes
Explore Keto Chow's line of liquid electrolyte supplements and save 10% off your first order by clicking here.
Redmond's Re-Lyte Electrolytes and Real Salt
Explore Redmond's line of Redmond Re-Lyte® electrolytes. They are a refreshing electrolyte mix that only contains the cleanest ingredients. Through a perfectly balanced blend of micronutrients, Re-Lyte will keep your cells and muscles optimally hydrated so you feel your best.
Plus, explore Redmond's Real Salt and seasonings while you're there. You'll be amazed at how good your food tastes with Redmond's on it!
Save 15% off your purchase with coupon code TARAKETO by clicking here.
Keto Friendly Bread
That's actually gluten-free and approved by Health Coach Tara!
Fox Hill Kitchens Gluten Free Breads
Check out my Unboxing Video on Fox Hill Kitchens Gluten-Free Bread here.
Want to try just two products and get free shipping? Click here and use coupon code TARAKETO during checkout and you'll get free shipping with the purchase of any two items!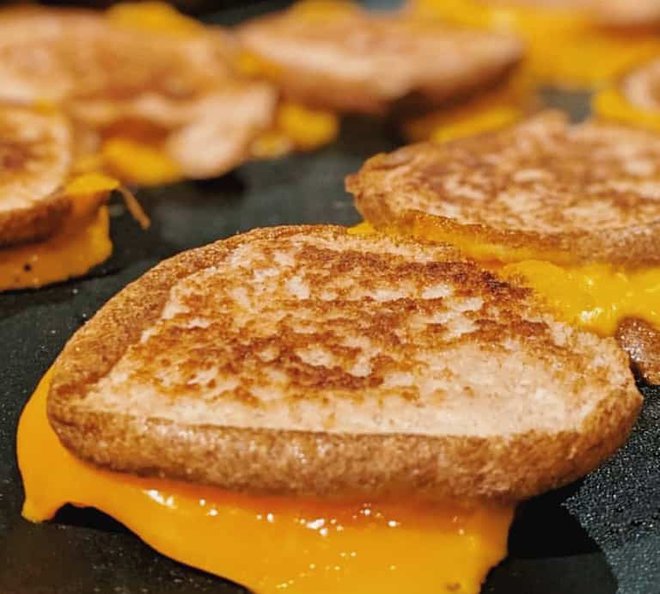 Keto-Friendly Chocolate
Most of the sugar-free chocolate on the market contains maltitol, which can cause gas, cramping, and bloating. Plus, for many, maltitol will spike blood sugar. Beware of this in all sugar-free candies and bars and avoid this ingredient if possible.
Save 20% off your Lakanto Order with Coupon Code KETOKITCHEN
Sugar-Free Chocolate Chips
Sugar-Free Chocolate Bars
Keto-Friendly Meals
If you're looking for a smoothie meal replacement that is keto-friendly, look no further. This family-run Utah-run company is owned by a caring couple who pour their heart into their products.
Save 10% off your first purchase by using our link here. (Please use our link each time you order as well.)
Our favorite flavors are Natural Strawberry, Snickerdoodle, Mocha
They also have soup mixes!
Real Good Foods - Healthy Frozen Convenience Foods
These ready-made frozen products are the ones we turn to when we're
short on time and want to stick to our keto diet. You'll find a wide variety of single-serving products such as:
Cauliflower
Pizza Crusts
Chicken
Enchiladas
Bowls
Breakfast Sandwiches (Sausage, Bacon and Turkey Sausage)
Save 15% off Real Good Foods Coupon Code TARAKETO
Keto-Friendly Snacks
Perfect Keto - Bars & Cookies
Save 20% off your Perfect Keto order with coupon code tarawbl20 and by clicking here.
You can trust these keto bars won't spike your blood sugar and don't contain sugar alcohol. The bars are made with almond and cacao butter, coconut oil, and collagen, with a touch of sea salt and stevia. They are sweetened with a combination of allulose, stevia extract, and monk fruit extract. Explore Perfect Keto's flavors and save 15% off your order by clicking here.
Keto Cookies from Perfect Keto are made with real whole-food ingredients like grass-fed butter, grass-fed collagen, unsweetened chocolate chips, and almond flour. No junk. No fillers. Only high-quality ingredients so you can snack on cookies that are good for you. Explore the flavors and save 15% off your order by clicking here.
Super Fat - Nut Butters & Cookie Bites
Super Fat has a delicious line of healthy nut butter in a variety of flavors. We love how pure their ingredients are!
Super Fat's newest product is Keto Cookie Bites which are a great snack to have on hand for when the cookie craving strikes.
Save 15% off your Super Fat order with coupon code: TARAKETO
MCT's
See our full article on MCT Oils & Supplements here. MCTs are a great way to boost your ketone levels and the healthy fats in your diet. There are a few different ways you can integrate MCTs into your daily routine.
MCT Oils
Of the dozens of MCT Oils we've tested, we find ourselves coming back to Bulletproof MCT Oil. We use their MCT Oil blend for cooking and their Brain Octane Oil in our coffee when we need an extra energy boost from MCTs.
MCT Powder
MCT Powder is a great substitute for coffee creamers. Our favorite brand is Perfect Keto because they don't use fillers and they plate the MCT Oil to gut-healthy acacia fiber. You'll be boosting your gut health with the MCTs and the acacia fiber.
Save 15% off your Perfect Keto order with coupon code TARAKETO and by clicking here.
Bone Broth & Soups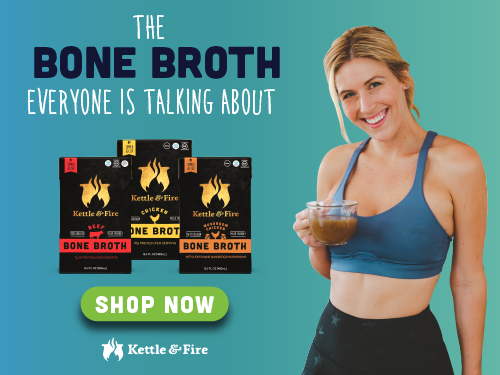 Our go-to for bone broth is Kettle & Fire. You can order through our affiliate link here. We have also seen it stocked at more and more grocers. Personally, we have an auto-ship set up because it saves us money and is convenient. Our auto-ship includes a variety of their bone broth flavors and their Mushroom Bisque Soup & Broccoli Cheddar Soup as well.
Sugar Substitutes
Lakanto Sugar Substitutes & Chocolate
Save 20% off your Lakanto Order with Coupon Code KETOKITCHEN
We recommend all of their sugar substitutes except for the baking blend because it contains inulin.
Be sure and check out their sugar free-chocolate chips and liquid monk fruit drops.
Testing For Ketosis
Save 15% off all meter kits with our link. This could be HSA/FSA health plan reimbursable. See their website for full information.
Breath testing can be much more affordable than blood testing but beware of inaccurate cheap monitors on the market. We've tested this one against a few others, and you can watch our review video here.
Cronometer
I recommend using an app/website called Cronometer to calculate your macros and log your food. I've used Cronometer for well over a decade and still prefer it above all the others. The app has settings specifically for ketogenic diets to make macro calculations easy. You'll also be able to see your nutrient breakdown which is important in figuring out how you need to supplement to prevent nutrient deficiencies.
Get a free account by clicking on this link.
SUPER FAT (Nut Butters & Cookie Bites)
Take the guesswork out of purchasing wines by investing in lab-tested, sugar-free wines that are also mycotoxin/mold-free, lower in sulfites, lower in alcohol, and statistically sugar/carb-free.
Click here to collect a bottle for just a penny and get an ebook with more information on Dry Farm Wines.
LAKANTO
Lakanto is most well known for its sweetener blend of monk fruit and erythritol. Check out some of Tara & Jeremy's favorites including simple syrups, chocolate chips, granola, chocolate bars, and more!
Save 20% off your Lakanto Order with Coupon Code KETOKITCHEN
PERFECT KETO
Perfect Keto has a whole line of products designed for the ketogenic lifestyle.
Keto Nut Butter Blends
Keto Bars
Keto Drink Mixes
MCT Oil
MCT Oil Powder- we love their MCT oil powder because they bind MCT oil with Acacia fiber which has a whole host of positive gut microbiome benefits. Plus, the flavors make an amazing coffee creamer.
Energy & Performance Supplements
& Much More
Use the coupon code TARAKETO for 15% off your order from Perfect Keto.
REAL GOOD FOODS
Real Good Foods is home of the BEST Keto Ice Cream on the market.
Actually, we love ALL of their products, don't hesitate to order a variety of different products to figure out exactly what your favorites are.
Cauliflower Pizza Crusts
Chicken Pizza Crust
Ice Cream (simply the best on the market!)
Enchiladas
Bowls!! For Lunch or dinner -- we love' em!
Breakfast Sandwiches (Sausage, Bacon and Turkey Sausage)
Save 15% off Real Good Foods Coupon Code TARAKETO
KETO CHOW
Looking for a healthy, fortified meal replacement shake that's keto-friendly? Look no further! Keto Chow is a delicious meal replacement packed full of healthy nutrients. All you need to do is choose your flavor and the fat you'd like to mix it with.
While you're on their website - take a look at their other products as well!
Electrolyte Drops (We use these daily!)
Magnesium Drops (Ionic Magnesium Chloride) -- these are our favorite form of oral magnesium!
Fasting Drops
Daily Electrolyte Drops
And... of course... Keto Chow.
Save 10% off your order automatically when you use our special link. Just click here.
The 10% discount through our link is valid one time, but we appreciate you continuing to use our link so we're credited for your purchase.
KETO KRATE
If you're looking for an easy way to try different keto-friendly snacks, we like Keto Krate!
Keto Krate is different from many of the other Keto "box" companies out there because they are 100% gluten-free, maltitol free and are sucralose sensitive.
This is why we like them so much!
Save $10 off your first Keto Krate by using our link here. Or, use the coupon code TARAKETO.
BULLETPROOF
Health Coach Tara's favorite Bulletproof product is the Brain Octane Oil. The Bulletproof collagen is also great! Explore their full line of products by clicking here.
MCT OILS
Click here to go to our full article on MCT Oils.
DIRECT ACCESS LAB WORK
Health Coach Tara works with Your Lab Work to provide people just like you with access to labs, at discounted pricing, that isn't generally covered by insurance.
Here are a few labs to consider getting:
Sign up for our FREE weekly meal plans by clicking here.
KETO MOJO
Test both ketones & blood glucose with one device.
Health Coach Tara uses Keto Mojo for blood ketone & blood glucose testing.

Tip: When purchasing, take a look at your HSA/FSA health plan as this meter may be eligible so you can be reimbursed by your plan!
JOOVV RED LIGHT THERAPY
Red light therapy is a powerful option that's easy (and painless) to use but can reap powerful whole-body benefits. Tara & Jeremy have been using their Joovv regularly since 2019 and have seen many, many benefits.
Hormone Health
Cognitive Function
Mental Health
Reductions In Pain & Inflammation
Fat Loss
Eye Health
Reduce PMS Symptoms
Improve Testosterone Production
Combat Seasonal Depression
Improve Thyroid Function
Stimulate Collagen Production In The Skin
Improve Sleep Quality
& Much More...
Learn more about Joovv by clicking here.
SUNLIGHTEN RED LIGHT SAUNA
In April 2020, we invested in a Sunlight Red Light Sauna after A LOT of research on red light saunas.
We chose Sunlighten because of the low EMF ratings, the research and studies they're doing AND they're possibly the only sauna made in the United States. The rest of them come from China.
If you order using our link (or mention Tara's Keto Kitchen) when you call to order, you'll get discounted shipping and pay only $99 instead of $598!
We'll be talking more about the benefits of red light sauna's in the coming months as we experiment and put it to work to improve our overall health.